Jefferson City Police report several weapons offenses over the past week
JEFFERSON CITY – The Jefferson City Police Department is reminding residents to secure their property, especially firearms, after several weapons related offenses over the past week.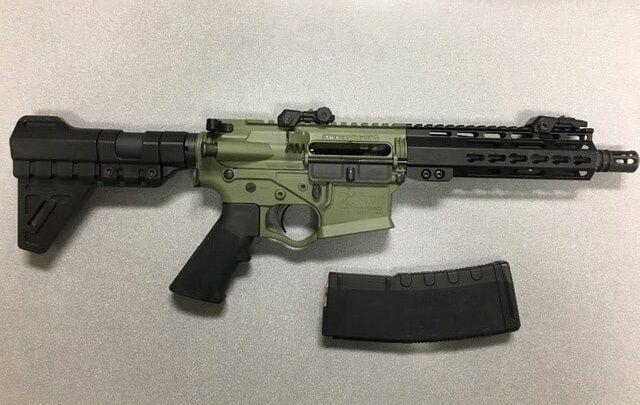 Gun recovered by JCPD
Jefferson City Police Department
A news release from the department outlines several weapons-related incidents since May 5, leading to at least five arrests. Many incidents also led to property damage. The department also seized five guns, including a stolen handgun.
On May 5 around 9 p.m., officials say they responded to reports of gunshots at Community Park. Officials say they found several shell casings in the parking lot, but did not find any victims. They say they identified several suspects and suspect cars.
On May 7, just prior to midnight, police stopped a car that matched the description of one that fled the scene of the shooting at Community Park. During that traffic stop, officials arrested two Jefferson City residents in connection with the shooting. Officials also found a fully loaded AR-15 pistol and a semi-automatic handgun that matched shell casings found at the scene.
One of the arrested subjects is out on bond for second-degree murder, first-degree robbery, tampering with physical evidence, and on weapons and narcotics charges.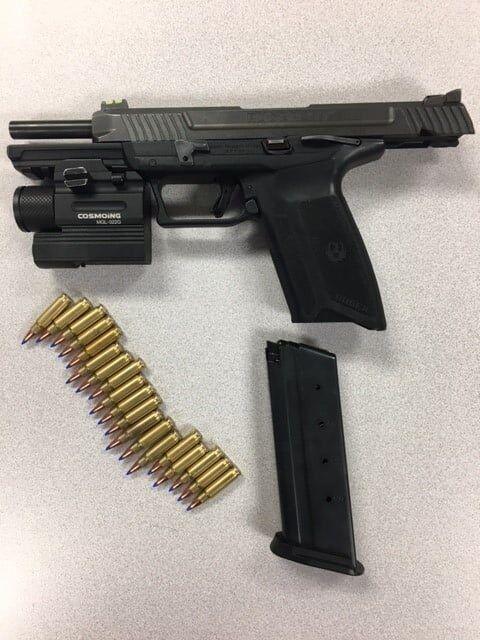 Gun recovered by JCPD
Jefferson City Police Department
As officers were conducting that traffic stop, officials received a report of gunshots near the intersection of Monroe and John Streets. The caller said they heard multiple gunshots and saw someone running from the area. When officers arrived, they say they saw two males dressed in all black and wearing ski masks who started running from the scene.
Officers say they were able to take one of the suspects, a 16-year-old, into custody. During the foot chase, the teen threw a bag containing two handguns, including one that was reported stole several weeks prior. The teenager, once in the patrol car, kicked the patrol car window, which caused damage to the frame and glass.
He was released to Prenger Family Center for holding. Earlier in the day around 12:30 a.m. on May 7, police said they received a report of gunshots near Myrtle and Edmonds streets. Around the same time, they say they responded to a car crash near Helias High School.
Police say they found the car crashed into a retaining wall at Myrtle Avenue and Swifts Highway. The car was unattended, but still running and in drive. They say there was a shell casing in the driver's seat, and that they believe the rear window was broken by a bullet.
Police say that car was reported stolen out of Columbia. Police did not release any suspect information. An hour later around 1:30 a.m., officers responded to a report of a theft from a car on Linden Drive.
Police say the suspect ran when confronted by a homeowner. They searched the area and found a 14-year-old suspect a few blocks away. The suspect was taken into custody after a short foot chase.
Officials found a .380 caliber handgun near the scene. On Monday, officials say they responded to reports of a stolen vehicle. Officers say they saw a car matching the description later near the intersection of East McCarty and Grant streets.
Officers say they tried to stop the stolen car, but the driver fled. The driver later crashed into a parked car near East McCarty street and Church Street, and officers say the two juvenile suspects then ran into a wooded area behind a building on Church Street. Officials say they set up a perimeter and prepared to deploy a K9, but the two female suspects came out of the wooded area first and were taken into custody.
The department did not say these incidents were related, but wants to remind citizens to properly secure vehicles and property.